No, I hadn't heard of him either. Basically,
Per Kirkeby
is a Danish abstract painter who has also experimented with sculpture and collage and who has published a number of tracts and books on various (usually arty) subjects. With the exception of a disappointing, youthful flirtation with Fluxus he sounds fairly cool.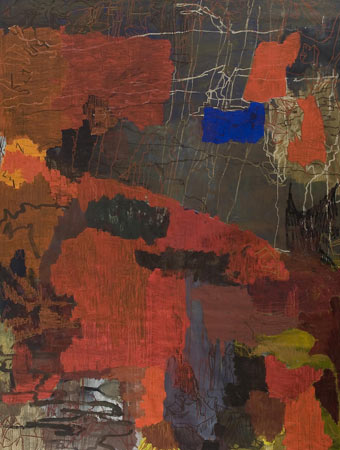 And, on closer inspection, he is quite cool. The earlier rooms flag up his bucolic interest in huts, one of the few figurative images that make it onto his canvases (well, boards, actually - canvas came later). One can also feel a Scandanavian interest in a fresh, outdoor - dare one say it - icy palette to go with this, inamongst the his recycled confrtonations with pop art (opaque, glossy primary colours, collage). The experimental watercolours are all part of this groping for self-expression.
It's difficult to see exactly where we're getting Kirkeby
sui generis
rather than a talented stylist absorbing and reworking all manner of interests. The key room, in terms of transition, is the fourth*, where we are informed that Fram (1983) is a key work... well this is certainly representative of the technique characterising the room but it still exhibits a certain inhibition, a rigid self-consciousness.
I felt that the authoratitive self-expression came in room 6. To get through this one has to move past a series of 'blackboard' works and their sculptural equivalents, bronzes painted with a black matt finish. These are idiosyncratically rendered - there is a sense of the artist's maturity of technique - if not a uniqueness of content. Yet, in room 6, we are finally confronted with four grand canvases, expansive, arms-thrown-open affairs in which his work with colour, form and technique seems to come into focus. Paint on unstretched canvas continues to be more or less the medium of choice up until the end of the exhibition, which concludes with some super paintings, including the mighty The Siege of Constantinople (at the head of this post).
I'm going to go off on a tangent which concerns the Tate's new policy of note handing out exhibition notes in hard copy as a means of reducing their carbon footprint. This is, broadly speaking, a good idea. After all, the notes are printed on the walls of each room. It is a little inconvenient to not be able to have them to hand when one is blogging a potted review of a visit but at least they'll be online...
Aaaaaaaaaaaaaaaaaaaaaarrrrrrrrrrrrrrrrrrrgh!!!!
... no - they're
not available online
, which means I have to guess (*) when it comes to talking about certain rooms in retrospect (and yes, I do often take notes on visiting an exhibition, but I usually make those notes on the exhibition literature that was previous handed out). Now that
really is
a terrible oversight.