This
is developing nicely. Matthew Collings kicked off at the weekend with
his film
offering the ten pegs that hold down his own beauty tent. Tonight saw Sue Perkins presenting
a film
discussing what people are putting on their walls at home. We have yet to hear from Waldemar Januszczak and Roger Scruton (who will both be well-informed, articulate and mildly abrasive to me) as well as less opinionated films on,
literally, the state of the art
and a
documentary series
following specially selected artists working in a dedicated institution.
I think that the most important one of the these films must surely be this evening's survey of what people put on their walls. It was a fairly breezy film, for which Sue Perkins' light-hearted but urbane manner was well-suited. Her conclusion, having seen the various seminal photographs and (figurative) paintings that mark the contours of mass taste-change over the past fifty years or so is that art in the home provides a different function to art in the gallery, although even with the glib vernacular it was difficult to swallow the idea that
Jopling
or
Saatchi
are likely to have things like this on their walls: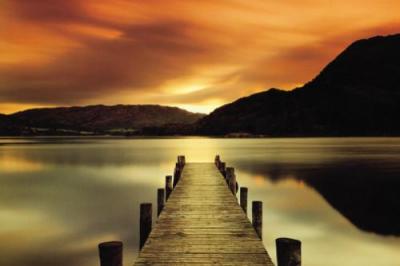 Nontheless, we did get invited into the homes of a remarkable cross section of people. I really liked the the chap nominally interviewed because of his interest in
Tretchikoff
, but all the while he was speaking the cameraman had managed to incorporated
one of Goya's marvellous - and desperate - Black Paintings
hanging over the mantelpiece.
Jack Vettriano
also spoke with honesty and humility about his own work and misgivings - albeit in his front room where the only work on show was his own.
Yet the most instructive situation about how one might map the boundaries of taste came during a segment regarding the above picture of the Ullswater Pier, a million-plus-selling print. Taste is a highly equivocal thing, obliquely but accurately defined when Perkins stepped into the house of an Ullswater local with the prints on her wall. Perkins alluded to the vast sales of the print - which seemed to catch the local unawares. No amount of ironic joshing could convince me that the local had actually thought she'd got a fairly unique picture - or that its apparent ubiquity was a crushing disappointment.
Clearly taste is contingent. Once again, this is the allusion Perkins makes in the difference between living room and gallery. It was just as well then that the filmmakers were able to go and see these pictures in people's houses - for example, seeing the giant, wallpaper-proportioned Tretchikoff in
Wayne Hemingway
's home meant we could believe his earnest advocacy of the Russian's art as something more than kitsch.
All in all, a pretty good programme. It's so easy for a show like this to exceed its remit, having people rambling on about why they think certain art is good, rather than what it means for them or in their domestic space. Perkins also just managed to rein in her natural inclination to joke too much and offer useful commentary on the subject in hand.