A triumphant evening for English National Opera, mounting a confident
revival
of Nicholas Lehnhoff's 1999 production of
Parsifal
. This highly integrated music drama requires a production ever-vigilant in its intent and we are gifted a staging of comprehensive design and purpose. Equally, the music-making was of great beauty, power and stamina.
Stuart Skelton was singing the title role and I can safely expunge the equivocation in my memory of his
Grimes
in this house from two years ago. If there's a key moment in the drama it's the intuitive spasm-becomes-sound cry of 'Amfortas!' in the centre of the second Act, which I reckon Brian Haw could have heard down in Parliament Square. There's also nicely modulated singing besides, a real treat. Goodness knows why Jane Dutton
hadn't been engaged as Kundry from square one
. Her singing, with a marvellous, ringing top end was augmented with carefully chosen splashes of spoken colour. It made an excellent characterisation of an impossible role. Iain Patterson's Amfortas (of course, almost the chief protagonist for Wagner) was the most beautifully sung of the evening, earthbound and plaintively lyric. For me though, the revelation was Tomlinson's Gurnemanz. Having heard Matthew Best's King Mark in concert
last year
, I had harboured a hope that we might hear him doing this role. Yet three minutes is about how long it took me to recant. Tomlinson's characterisation, storytelling, understanding of language (the German's in his blood, here he sings in English for the first time) and sheer voice-led charisma put me in my place. On top of which his singing emerged as good, as if refreshed somehow. I was also deeply impressed by the chorus, a considerable body of singers showing an unusual patience and control in the throttling of their dynamic range.
I have one churlish but nagging issue with this totally overwhelming experience (a banquet of an opera after the very lean pickings of London's mean operatic buffet of late). Though the orchestra played well and the drama unfolded with a natural logic I was rather puzzled by a couple of tempo relations. Mark Wigglesworth clearly has a strong relationship with the orchestra as there was a great deal of expressive flexibility within passages and individual phrases. However, I feel that he may have taken the Gurnemanz's aphorism of 'here, time and space become one' a little literally. Where I felt certain episodes need to be shown formally in a little relief (such as the Flowermaidens chorus) they were too knitted to the general basic fabric of the music.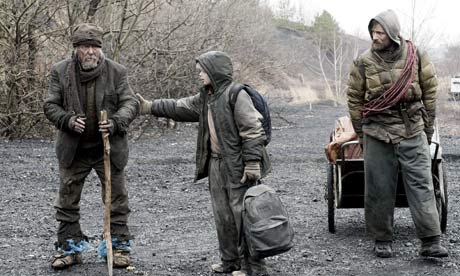 Lehnhoff's production has lost none of its startling dystopian grip. The designs capture a science fiction that seems less unlikely than it was twelve years ago: in the interim we have had Cormac McCarthy's
The Road
(2005), and its film adaptation featuring ashen-ragged pilgrims (right); Christopher Nolan's
Inception
(2010) takes pride in its dimension-bending dream of an upended Paris, just like the vertiginously raked main set of the opera; the sexually aggressive alien women reminded me of the feral, cult-outcast underclass of Michel Houellebecq's
The Possibility Of An Island
(2005).
New ideas that hadn't occurred to me before stated their case - that Kundry's chrysalis is also a pulpit and, broken at the end of the same act, the rent tablets of the commandments. Indeed the Christianity of the piece, which I had previous dismissed as a conceptual armature for Wagner, is actually very earnest. But then, the other thing I encountered - via a virtuoso peak of Jane Dutton's performance - is that Christ's look at Kundry has no meaning of its own. It is simply a connection, communion at its most basic and the existential pivot on which the entire opera is based.
Perhaps. That's the genius of the opera and this production. Like good Beckett (and there has already been
a review
of this production revival citing Beckett) it trudges along letting our own imagination build a personal-universal narrative. I left dazed.