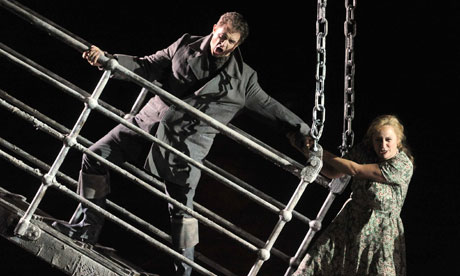 It's not often that an evening spent at the Royal Opera (let alone any opera company) is rescued by the chorus. This was my basic reaction on leaving the new
Der fliegende Holländer
(or Flying Dutchman) last night. Clearly the work itself is not in the same ball park of quality as the Ring Cycle (certainly not the post-
Tristan
operas) despite some splashes of ingenious orchestration. Jeffrey Tate got the swollen bass tremolos at the beginning of Senta's ballad to storm the lip of the pit just like the waves they're meant to be. Elsewhere though the music struck me as very vertical: balanced but lacking an essential lyricism, and making the singers work extremely hard.
Perhaps the memory of Christian Gerhaher charming the very gilt of the walls of the auditorium in
last year's Tannhäuser
has set the bar for these pedestrian Wagner works too high but the singing seemed rather ordinary. The Dutchman is possibly a mite low for Egils Silins, who really got into his stride in the latter moment of high drama and therefore tessitura. Anja Kampe gave a charismatic Senta though the singing always seemed to be a struggle. Conversely Endrik Wottrich's Erik rang out into the auditorium, but then his energies were clearly focused on the singing rather than his part on the stage.
It all seemed rather a shame, given the breathtaking set design by Michael Levine. A steep rake had been constructed in the manner of a ship's bow, though concave instead of convex, curving monumentally into the wings. Immediately apparent were the scale of the music and the supernatural obligations upon the titular character, not to mention the sea itself. David Finn's lighting design isolated spaces on this iron deck for individual scenes and to make the most of their transitions each of which amounted to a minor theatrical coup.
Nonetheless, such entertaining spectacle is inert if the music drama treads water. It was with huge relief then that the chorus swarmed over the space for the landing celebrations in the final third of the work. Clearly this part of the company now have a natural symbiosis and the movement and dancing seemed totally natural, an adjunct to some clean, muscular singing. Again, maybe its a quirk of the piece that the chorus part is a boon and the roles a series of albatrosses but the vitality of the chorus was taking full advantage of it.