Finally I have got around to watching one of the key works in Michel Legrand's output (OK, it's Remy's film, but I'm Legrand-fixated).
Les Demoiselles de Rochefort
is the follow up to
Les Parapluies de Cherbourg
but no sequel. From a musical viewpoint, one of the principal differences is that it is not through-sung; there is spoken dialogue. What it does retain is character, that sense of parochial lightness - and the sharpness of the drama when that goes awry.
Principally though
Les Demoiselles
is a fantasy ballet. From the first improbably shot taking from various perspectives on the
Rochefort-Martrou suspension bridge
to any number of ensemble set pieces on the streets of the town itself, co-ordinated costuming and choreography are the beating heart of the film. It's no surprise then - though a stunning coup - when the godfather of the Golden Age Hollywood musical Gene Kelly turns up (as a composer, i.e. as Legrand. Told you it's about him).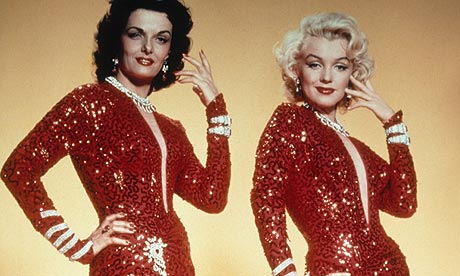 The sisters of the title are musicians and tell us as much in a charming, bouncy numbet hat starts the film and reappears later. The distinctly European DNA of the enterprise becomes clear when the girls try the only dedicated, diegetic song and dance routine of the film (above). A version of Monroe & Russell's red-sequinned showpiece in
Gentlemen Prefer Blondes
, it looks studied. Indeed Remy might even have filmed it as such to better realise the breeziness of the rest of his conception.
The essence of the film is distilled in a set piece, known as the concerto ballet, when Kelly and Françoise Dorléac finally come together to acknowledge the love that all but exploded into flower near the film's start. The sequence forgoes the natural causality of the story, making the same assumptions as the audience, and gets right down to the dancing in a gleaming, Elysian temple that is the music shop to the proto-Rachmaninov gushing of Legrand's ersatz piano concerto.
The bittersweet character - the poignancy of love - that the sequence carries became all too real immediately after the film was completed, as Dorléac
was killed in a car accident
.