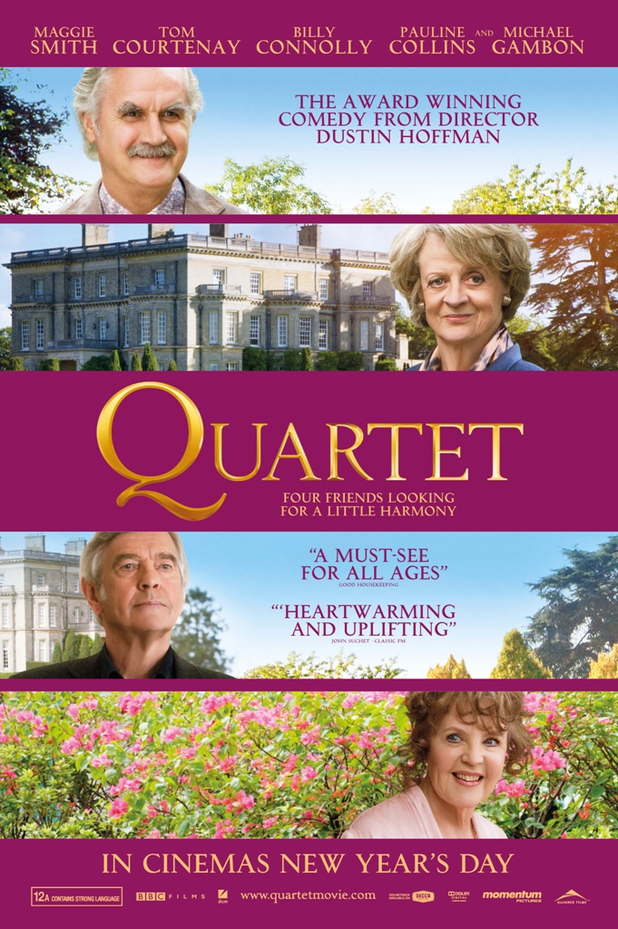 One of the more popular films of the new year has been
Quartet
, a story set in a retirement home for former musical professionals. As is always the way, a lot of the interest in the film is as much to do with it being the directorial debut of actor Dustin Hoffman, as well as the fine eponymous quartet of actors: Maggie Smith; Tom Courtenay; Pauline Collins (a revelation); and Billy Connolly. Based on the extraordinary documentary
Tosca's Kiss
, concerning Casa Verdi, a real-life retirement home for opera singers,
Quartet
centres on what can be a misunderstood and marginal part of the music industry, though it also takes in retired instrumental performers, as well as those from related theatrical disciplines.
Sensibly, the film is more about the relationships that make up the quartet. It also addresses how the step into retirement changes the relationships from the former, younger, active part of life, as well as broader issues of pride, dementia and physical health. The music part is really just a vehicle and with his broad cast Hoffman wisely allows the film to talk in general terms about performing rather than music - or singing.
Nonetheless, singing there is. Whilst the few professionals among us might be interested to see the film with a view to learning more about the decline in technique and ability and how that affects a singer physically and mentally, the film steers admirably clear of such detail. This prevents the film from becoming bogged down and equally navigates the (literally) treacherous path of misrepresenting singers with dramatically amplified or narratively condensed versions of the art for an audience expecting to be out of the cinema in 90mins.
Instead there is the welcome sight of seeing a number of real music professionals populating the second tier of the cast, seasoning the conventional, ersatz patina of the drama with the real thing. Gwyneth Jones, a true superstar of the actual operatic stage, reprises this role with just enough twinkle to suggest it's acting. John Rawnsley and Nuala Willis, very much the real thing occupy the screen with a charisma (and voice) that cannot be contrived. They are clearly enjoying themselves. Most interesting though are the figures behind the foreground of the professional musical landscape. There's a former string quartet, orchestral players and a pair of accompanists who perform in the film as they might do on the rehearsal floor of a high-intensity opera studio; alert, inscrutable, hardened. Their performing-with-instruments and behaviour can no more be learnt by actors as it can be imagined. Hoffman's inclination to include the real thing is invaluable.
During the closing credits Hoffman chooses to honour his cast by showing old photos and giving details of the significant parts of the their careers. This has the effect of levelling the cast which is less about moving the spotlight to the less high-profile to showing how even the most high-profile or 'name' performers have worked with a comparable tenacity. If one can get over the necessary-but-toe-curling cut-n-shut jobs on Verdi's
Brindisi
and the inevitable, hackneyed inter-generational discussion comparing opera and hip hop (not to mention Hoffman's rather picaresque approach to the film overall) then it's well worth investigating.